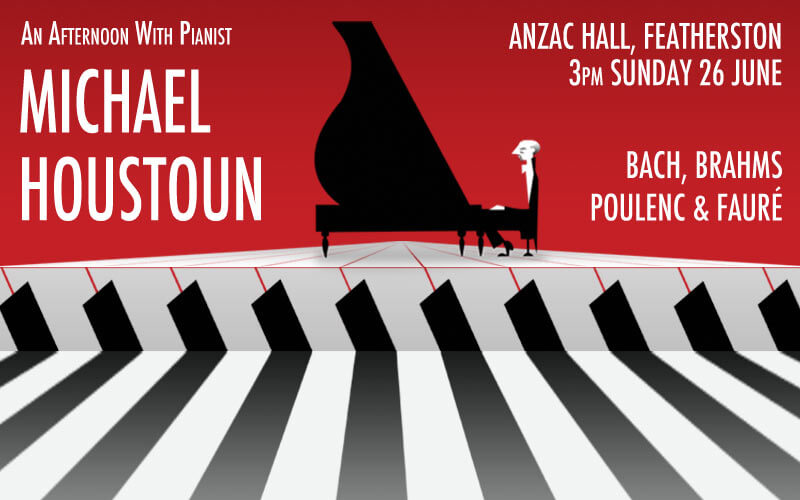 On June 26th, Featherston will host New Zealand's eminent pianist, Michael Houstoun, for an afternoon of Bach, Brahms, Poulenc and Fauré. The concert will open with six preludes and fugues from the second book of Johann Sebastian Bach's well-loved and timeless "Well-Tempered Klavier". Following a short interval, the programme continues with the beautiful, melancholic "Three Intermezzi" by Johannes Brahms. The third act is "Three Novelettes". by Francis Poulenc and the afternoon will conclude with a nocturne and waltz by Gabriel Fauré.
The proceeds from the event will go towards the town's fundraising efforts to install a major public artwork by Paul Dibble to celebrate and remember the town's special historical relationship with the nearby Military Camp during World War One. Fittingly, the venue for the matinee will be the magnificent Anzac Hall – a concert hall build by the townsfolk 100 years earlier expressly for the purposes of entertaining recruits.
The venue will open at 2.30pm ready for the programme to start at 3pm. Everyone is invited to enjoy some traditional Featherston hospitality afterwards, when afternoon tea will be laid on in the adjoining Kiwi Hall.
Pre-sales are available from eventfinda.co.nz and door sales will be available on the day. General admission is $30. Students and SuperGold card holders can purchase tickets for $20.
Tags:
100 years
,
Afternoon Tea
,
Anzac Hall
,
Bach
,
Brahms
,
Concert
,
Fauré
,
Fund raiser
,
Michael Houstoun
,
Pianist
,
Piano Recital
,
Poulenc
,
sculpture