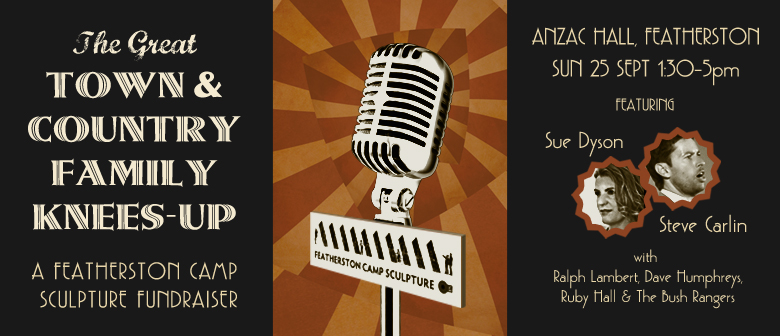 Following the great success of the Michael Houstoun piano recital, in the style of an old school 'back in the day' Anzac Hall event, the Featherston Camp Sculpture Trust is once again putting on a fundraising music event. This time the talent has a mix of music styles for all ages to get into.
Wellington's fabulous crooner Steve Carlin is bringing his rich baritone voice to resonate in the hall. He captures the gorgeous vibe of the swing era vocalists. Let Steve entertain you with all those wonderful hits, from Mack the Knife to That's Amore…New York, New York…and more!
The other solo performer is Wairarapa's very own Sue Dyson. Many years ago she was a singer in the Masterton Country Corral and after shifting to Auckland started working with covers bands, and as a backing singer with some top kiwi recording artists. She is now writing her own country music but also has a number of great covers in her repertoire.
These two are supported by Ralph Lambert (traditional country), Ruby Hall (former professional cabaret artist) and Dave Humphreys (traditional country plus originals). Wairapapa's very own Bush Rangers are also playing.
Sunday 25 September, 1.30pm – 5.00pm. Families $40, kids $5, students, and Super GoldCard holders $10, adults $20. Tickets on sale from 3 September at the Featherston Information Centre, Loco Cafe or by emailing info@featherstoncampsculpture.org